---
No more gas fulfilled any more! 
💥 
Much safer 👍
Definitely need this rechargeable lighter for candles. 🕯️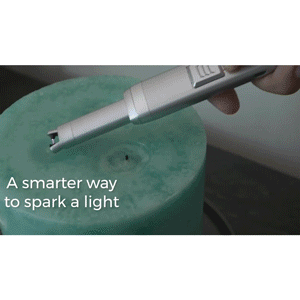 Reach for a USB-rechargeable lighter that uses an electric charge—not fuel—to flamelessly light candles, pilot lights and more. Single-button operation features a safety cover and retractable tip in this eco-friendly replacement for disposable lighters.
💗 Details:
Instructions: Slide switch cover up and press the red button to start. For best results, hold the lighter roughly one inch away from your target and slowly move to target

Features safety cover and retractable tip

Flame free, no toxic butane gas

Easy to use single button operation

Great for use with candles and all gas appliances (i.e. gas BBQ, stove, fireplace)

100% USB-rechargeable with 1.5–2 hour charge time

Please note: Keep out of reach of children. Do not touch electric current to skin
💚 Specifications:
Material:ABS plastic, alloy, LED lights, lithium-ion battery

Length: 20cm

Weight: 400g
💜 Package:
1* Rechargeable Lighter + 1* USB cable